It's that time of the year again where we all start planning hopefully for days in the sun.  Of course, the same level of planning and preparation goes into getting our soft skinned little ones into the water.
We received a whole bundle of beach ready goodies from Boots, and sent them off to mum to a one year old, Emily.
Here are her thoughts.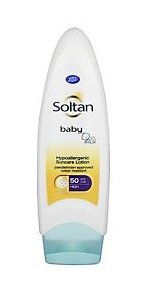 "I first used the Soltan suncare cream on a sunny day back in March, when we had a good spell of weather."
She found the cream very thick and quite hard to get out of the squeezy bottle. "On the plus side, it spread on the skin really well and left us with a delicious smell all over our bodies. It smells fruity and light. It absorbed really quickly too, which is always a plus when you're trying to spread it on young kids."
The Soltan suncare cream is formulated for babies' vulnerable skin. It is dermatologically tested and hypoallergenic, and also has no added colour or alcohol.
"It was the first time I'd put any sort of cream over my little girl's face, she was only about 10 months old at the time. She wasn't too pleased, which is why I was glad that it spread well and dried in so fast.
It doesn't seem to have been as sunny since then, so I haven't really had the chance to use it any more. Fingers crossed for more lovely summer weather! I am planning on bringing this on holiday when we go to Spain in June, definitely factor 50 for baby and probably for me too!"

I'm with you Emily. I'm crossing my fingers for a good summer too.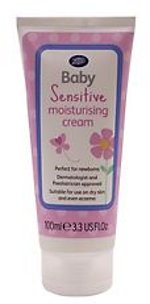 We also gave Emily some Boots baby sensitive moisturising cream which has a nice creamy texture and a very faint baby smell. "I tried it on my arm before trying it on my baby, and it dried in well, leaving my skin soft with a slight hint of a fragrance, which is exactly what I like from a cream."
While Boots say that this cream is suitable for newborns, I remember from my NCT classes way back when that you're not supposed to put anything on a newborn's skin, which Emily mentions too. "It says on the tube that the Boots baby moisturising cream is perfect for newborns, but I know that myself and a lot of others too are very careful about what they put on a newborn's skin. My baby is a bit older now so I felt fine using this on her skin, and she seemed fine with it too."
Of course, every swimming day needs the right outfit, and Boots sent Emily some swimming pants for her little girl. The Boots Swimming Pants, says Emily, "…are pretty much what you'd expect from a swimming pant. I've only used Huggies Little Swimmers in the past, so I am using those as my baseline. I've always wondered about baby swimming pants - do they really keep the pee in, or is it just more of a mental protection for other swimmers?" As a mum who spent months next to the pool in the Southern Hemisphere, I can assure you that swimming pants do not keep any liquids in. It's really more about the solids, ahem.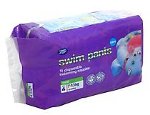 Either way, most pools require babies to wear swimming pants, and these swimming pants do the job, says Emily. "These Boots swimming pants fitted baby pretty snugly and I felt they did a good job."
"I've only been swimming with baby a few times over the last year since she has been born, so I still am not quite confident in the whole cold and soggy post-swim changing process. As I went with my partner, I got out 5 minutes early so I was dressed and ready, fully equipped to change baby when she got out. I made one mistake though - I set baby on my knee at one point, and ended up with a large soggy patch on my jeans. Yes, the pants probably kept the wee-wee in, but they're still pretty damn soggy and full of swimming pool water.  At the end, it was pretty easy to rip the pants up the side seam, for ease of wet baby extraction."
These are only available in blue though, whether they're for a boy or girl.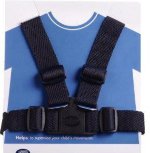 While some parents are dead against restraints – I was too, once - on a crowded beach or busy sidewalk, they can make a real difference to your stress levels. The harness and reins from Boots is just a basic harness set, coupled with a strap, which acts as the reins.
"I tried it out on my 3 year old nephew," says Emily. "The harness was easy to get on to the toddler, and quite easy to adjust the straps to his size. I did find the reins quite short though, he really had to stay right beside me while using them. I would have preferred to use a leash style idea rather than the reins. I could have detached one side of the reins and used it like a leash, but it wasn't exactly designed for that."
So, it seems as if the Boots range of baby products is functional, useful and covers you for your and baby's summer needs.