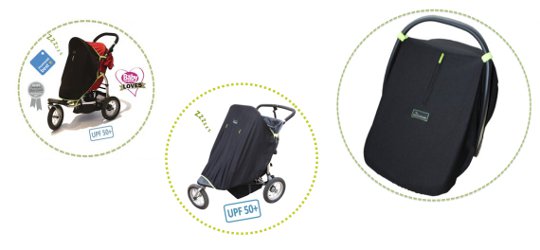 SnoozeShade is a unique blackout blind for prams, carrycots, pushchairs and buggies. This innovative baby sleep product was created by a British mother specifically to help babies and toddlers sleep for as long as needed in a pram or pushchair.  SnoozeShade have offered PlayPennies readers 20% off all items in their line with this discount code.
Cover up for complete darkness with SnoozeShade
Discount: 20% off
Expires: 31 January 2012
Discount Code: PLAYXMAS
"Christmas shopping, crackers popping, lights shining… babies sleep through it all", says SnoozeShade.
Tots everywhere can sleep soundly this Christmas, no matter where they are - thanks to SnoozeShade, the world's first blackout blind and baby sleep aid.
Fancy a brisk walk on Boxing Day to clear the cobwebs? Be confident that your sleeping baby will stay asleep with SnoozeShade Original for single and twin prams and strollers. And there's even a car seat cover suitable for most group 0/0+ car seats , should you want your little one cocooned up for the journey home.
Your original stroller SnoozeShade is £19.99, so £15.99 to you. Prices for twin buggies are £39.99, so £31.99 to our readers and you can SnoozeShade your car seat for £19.99, also £15.99 to PlayPennies readers.