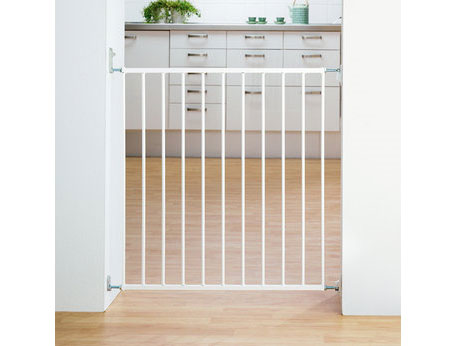 Babies R Us are selling this BabyDan No Trip Safety Gate for half-price; it's currently £12.99 instead of £25.99
Baby Safety gates, baby stair gates, child stair gates - call them what you will, as soon as your baby decides to go mobile you'll need at least one or two.
There are lots of different makes and models out there and this BabyDan safety gate is just one that you can choose from; it's one that I'd go for, based on my previous safety gate experience.
There are two main types - ones that sit tensioned in between the door frame, and ones that need to be screwed into the frame; this BabyDan safety gate is of the screw to the wall variety.
Yes, this does mean putting holes in things (which can be easily filled and repaired when there's no need for the gate anymore), but it does offer a more superior level of safety in my opinion.
There is no chance of your child pulling the gate from the door frame when they're hanging on it (which they do) or shaking it because they want to come through it (which they do).
It also means there's NO BAR along the bottom, which there is on the tension gates, which means NO TRIPPING over it when the gate is open and they're free to walk through it.  The same applies to us grown-ups by the way, the number of times I've tripped over stair gate bars *sigh*
Standard delivery is £4.95 or click and collect in-store for free.
Thanks to magicbeans at HUKD