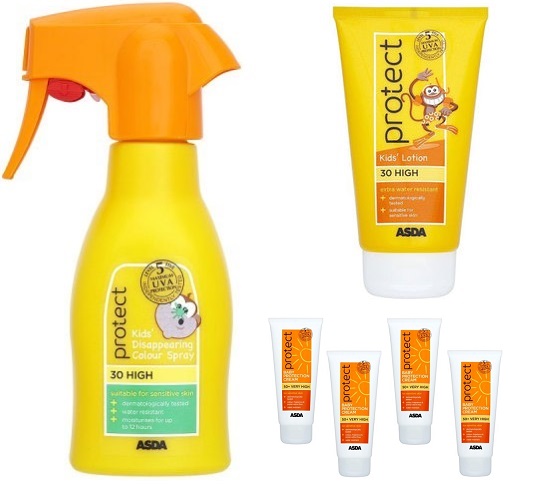 In case you haven't noticed (and I rather suspect you have) we've had a bit of a summer this year. I don't actually recall pulling out the suncream once last year.
We received a selection of sunscreens to test from Asda*, and frankly at the time we thought we weren't going to get the chance to see how they worked. That was back in June, and a lot has changed since then. The suncreams we received have had a full work out. We gave them to mum of three, Hannah, who has two boys and a wee baby. She also lives near a beach, rather convenient. Not usually so much sun in the UK though. And she took them on holiday with her. Read on to find out how Hannah got on.
Protect Kids' Disappearing Colour Spray
First up, we tried the Asda Protect Kids' Disappearing Colour Spray Factor 30 High (suitable for sensitive skin). This is priced at £3.50 per bottle.
The Colour Spray has, according to Asda, an 'extra care formula', which was specially developed for kids' delicate skin. It is coloured so that when you rub the lotion in you won't miss any bits. There's a UVB filter that gives 30 times the skin's natural protection against sunburn, and a UVA filter, the provides protection against premature ageing caused by the son.
There's also something called a Photostable system, that keeps protecting you between applications. No idea what this means, so not sure if it would really work or not. There's also vitamin E in there to help protect the skin, and it is also advertised as non-greasy, easily absorbed, and water resistant.
My kids despise sun lotion, following a bad experience with a very cheap brand when they were little, which irritated their skin. But this one went on painlessly and the kids were happy to have it applied.
The trigger-style lid on this makes it appealing to kids and thus easy to apply, and the blue colour (which fades away) is also a gimmick that made my kids more willing to have this stuff applied. But, I wasn't a fan of the smell (quite sweet but chemical-y, kind of like some brands of sweets) and I found it left a fairly gloopy residue on my hands which I really wanted to wash off. Not great if you're applying it at the beach or the pool.
It works well though, and it does appear to be water resistant and didn't irritate sensitive skin.
Overall verdict: 8 / 10
Asda Protect Kids' Lotion
The Asda Protect Kids' Lotion Factor 30 High (£3.50) smells almost medicated which I really didn't like. The kids found it less appealing than the disappearing colour spray for obvious reasons (it's just white and comes in a standard tube instead of the trigger-style lid).
It's quite thick when you apply it, which makes you feel like it'll do a good job on children's delicate skin. Again, it left me wanting to wash my hands after application. The monkey on the packaging was also appealing and a talking point with my suncream-resistant kids.
The lotion is billed as extra water resistant and we found it lived up to that - no need to reapply constantly which is a bonus.
Overall verdict: 8 / 10
Asda Protect Baby Protection Cream
The next lotion though outdid the others for being thick and gloopy, and this didn't go down well with the baby. The Asda Protect Baby Protection Cream Factor 50+ Very High costs £3.50 per bottle.
I found that the lotion leaves a sticky residue on the skin and doesn't smell particularly appealing but I have to say it worked very well. If you have to have baby in the sun then this is a reliable product but to be honest the misery of applying such a thick, gelatinous cream (that the sand sticks to) to a wriggly baby would make me more inclined to stay in the shade.
Overall verdict: 7 / 10
Protect Sun Lotion
The Asda Protect Sun Lotion Factor 15 Medium (£4) has a very distinctive, unusual smell that I don't associate with your typical suncream products. However, I actually really liked it, and found I was more likely to reapply it because of that.
It does leave a residue on your skin but it feels more like a nice moisturiser than a gloopy sunscreen product. Very effective for a medium coverage product. I tanned without burning after spending a couple of hours in the sun but would usually find that medium coverage products need to be reapplied constantly (this didn't) or don't give enough coverage.
This is a product I would buy again and recommend to others with fair skin that burns fairly easily.
Overall verdict: 9 / 10
Asda Protect Anti-age Facial Sun Creme
The Asda Protect Anti-age Facial Sun Creme Factor 30 High is designed especially for delicate areas like face, chest and hands that age easily due to sun damage.
I wouldn't usually use a product like this as, living in Ireland, the sun rarely shines and when it does I do my best to catch a few rays! But this is a lovely, appealing product which could convert me to using anti-aging facial sun products instead of trying to tan.
The packaging is more upmarket than the other items in the range. The golden and brown colours are more reminiscent of tanning products (the other items come in orange packaging) and makes it feel more like something you'd use as part of a beauty regime than suncare.
It smells delicious - almost chocolate-y without being overly sweet or sickly and the texture is lovely and light. You can feel it on your skin which takes some getting used to but is also weirdly reassuring - your skin feels protected, and it doesn't feel too greasy or sticky. I'd buy this and recommend it to friends.
Overall verdict: 10 / 10