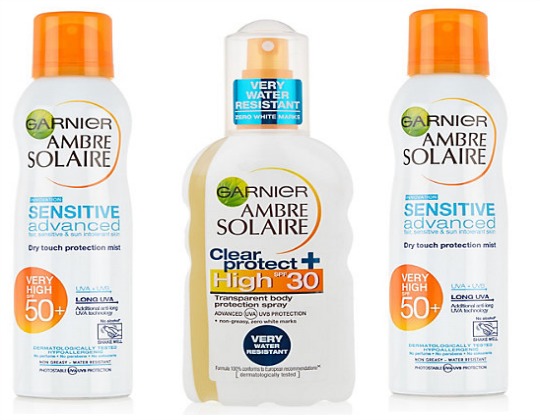 Sun Cream can be mighty expensive, which really gets on my nerves. It's an absolute essential come summer time especially for those little ones. Marks and Spencer are currently running 50% off Selected Suncare. Fabulous! That's not all though, enter promo code MAY15EM at the checkout and get an extra 40% off. That code will work on Clothing, Home and Beauty but not on SALE goods. It does work on special offer items like this Suncare one.
My children have seem to be allergic to a lot of Sun Cream on the market and they are not alone. Thankfully, the manufacturers have taken this on board and sell special ones for those fragile skins. This Ambre Solaire Sensitive Advanced Sun Protection Mist SPF50 200ml* was £16, it's reduced to £8 in the offer, use that code and it's just £4.80!!!
This Ambre Solaire Resisto Spray SPF50+ 200ml* was £12.50, reduced to £6.25, code price is £3.75. Another one for the kids is  SUN SMART Sensitive Moisture Protect Coloured Sun Spray SPF50 200ml*. It was £10.50, reduced to £5.25 now only £3.15when you use that code.
You can opt to Click and Collect which is FREE from any M&S store or pay £3.50 for home delivery.