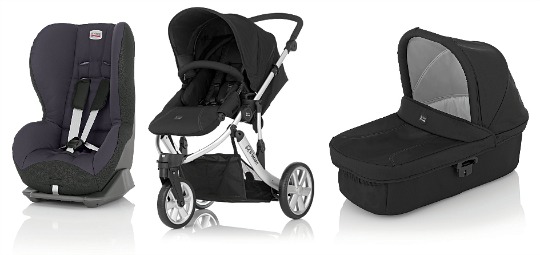 Asda George have a fantastic offer right now on some of their Britax baby and toddler items. They have an extra 20% off selected car seats, booster seats, travel systems, carrycots and accessories, making them cheaper than anywhere else right now. Asda products go out of stock very quickly online so if you're considering any of these then you need to be quick!
The 20% discount gets taken off when you add the item to the basket, so the price you see online is before the reduction.
The Britax Adventure Black Thunder Booster Seat*works out at £24, which is a good £5 cheaper than the competition, and is a great choice rather than the booster cushions which have no side or rear protection.
The Britax Prince Black Thunder Car Seat* comes down from £50 to £40 with this offer, and this is about £10 cheaper than elsewhere.
The B-Smart and B-Dual Pushchairs work out at an amazing £160! The B-Dual can be made into a tandem pushchair for twins with the addition of an extra seat (£64, again super cheap) and that is a fab price for a tandem. If I was expecting now I'd be getting the B-Smart and the carrycot (£80) which would see baby through from birth until they stopped using a pushchair for the grand total of £240 - that's about half the price we paid for our first!
Some of the smaller items like the car seats can be collected from stores for free, but larger items like the pushchairs are only available for home delivery, but charges are from just £2.95. If you want good value travel solutions for your baby or children then I would recommend looking at these whilst this offer is on, and before they go out of stock!