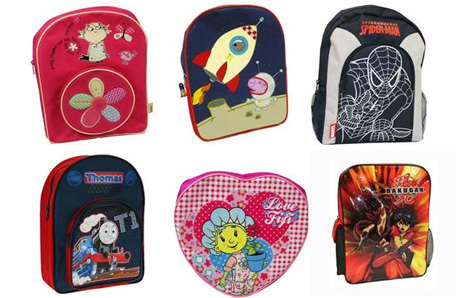 If you're in the market for a kid's character backpack, then you need to get yourself over to Tesco - they have a few, starting from £3, up for grabs at the moment.
Back packs are handy things to have around the house and I came to the realisation, many years ago, that one is just not enough.
My youngest has a back pack for his swimming kit, a back pack that he likes to keep his Skylanders in and a back pack for carrying general 'stuff' around with him when he goes out.
I can't stop myself from teasing him about having 'man-bags' at the age of almost seven, but he doesn't care - man-bags are COOL, and I know nothing! 
What is very cool is that he carries his own things around; my niece, by the way, also has a REAL 'thing' for all things 'bag' - whether they be backpacks or otherwise, she won't be seen out without one; she's only just turned five.
There are a few different character designs available for you to choose from: Thomas and Friends, Disney Princess, Disney Princess Fairies, Disney Cars, Fireman Sam, and even a couple of plain ones, if none of the character ones take your fancy.
Obviously, the cheapest way to get your hands on your backpack is to pop into your local Tesco store and collect it, that doesn't cost anything.  Otherwise you're looking at an additional £3 for home delivery, and then your backpack bargain won't be such a bargain any more.
Thanks to samzam at HUKD