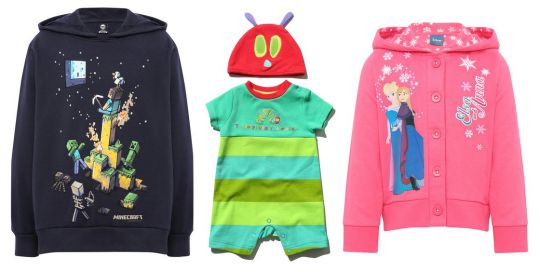 M&Co have a big event this weekend where they are offering 25% off all full priced items plus free worldwide delivery when you enter the code EVENT25 at the checkout! That means that apart from the sale section and other promotions like multibuys you can get 25% off everything on the website. That includes clothing, footwear and accessories for the whole family, plus home wares.
Discount: 25% off all full priced items plus free worldwide delivery, not in conjunction with any other offer.
Expires: Sunday 13th September 2015
Code: EVENT25
There are some wonderful clothes in the baby and kids sections, and even before the extra 25% discount the prices are reasonable, especially considering the free home delivery as well.
In the Baby section there are some cute t-shirts like these Car* and Dinosaur* designs that are just £2.80 delivered with this voucher code. Also in the baby section is the gorgeous new Very Hungry Caterpillar* range, and prices start at £8 with the voucher code.
In the children's clothing section there are some very good value own brand clothing items, but M&Co also sell lots of character clothing and accessories and as long as they aren't already in the sale then you get 20% off those as well. There's Frozen, Minions, Disney, Minecraft, Lego and loads more.
You can find this M&Co Voucher Codeplus lots of other money saving codes over on our voucher section, and you have until Sunday to use it.