You can't have a baby and not have a changing bag; the two things go together like cheese on toast, strawberries and cream or bangers and mash!
You can go for the DIY changing bag approach: buy a normal bag, use a towel for a changing mat and simply bung everything in.  You can buy a bog standard changing bag that are all pretty much much of a muchness OR, you can decide to have something a bit special and go for a designer changing bag.
You will fall into one of two camps as far as this Vanchi 'Doctor' changing bag is concerned you will either be in the 'Oh! OHHHH!!!  I have to HAVE IT!' camp or the 'Are you kidding?!' camp.
Let me tell you all about it, then you can decide.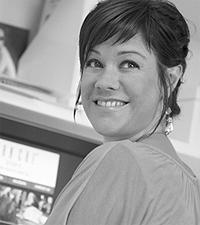 Vanchi was founded by Sarah Van Bentum in 2006; with a career in teaching nicely mapped out she would probably have had you committed if you'd told her, before discovering she was expecting twin boys in 2005, that she would end up founding a company specialising in designer nappy bags!
The Vanchi motto is...
...to be the Nappy Bag of choice for style savvy Mums who refuse to compromise on anything!
A 'Doctor' Vanchi changing bag was sent to us and given to Tamsin to put through its paces - she's a bit of a bag connoisseur and whilst she will not compromise, she won't tolerate being 'ripped off' either.
Everything started well for Vanchi's 'Doctor' changing bag, "Taking the bag out of the box was an experience in itself. Red tissue paper was wrapped around the bag making it feel like you were unwrapping a giant present to yourself."
I must confess, I do love opening presents and parcels that are wrapped in tissue paper - it just makes whatever it is inside feel that extra bit special.
Tamsin comments on the ruching that features on the front of the bag and whilst she admits she never liked ruching - "I'm not a fan of the ruche; I hated it in the 80s and refuse to wear it today. It is not the best fashion decision." - she does confess she still thinks the Vanchi 'Doctor' is gorgeous.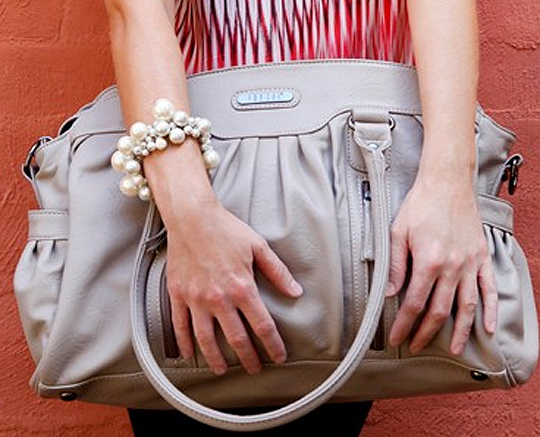 The front of the 'Doctor' features a handle, two zips, the signature Vanchi silver dummy charm and the edges of the side pockets.  Tamsin reveals that the zips open to reveal two small pockets that run to the right.
"You can fit wipes (although not the huge 84-wipe packets, the pocket is too small for that), snacks, money, tickets and all sorts of necessary items into these pockets for quick and easy access.  These are genius for avoiding that mad in-the-bag scuffle that you can get when you are looking for something urgent in the enormous cavern of an interior."
The side pockets are huge apparently, and can fit all sorts of bigger things in that you still wouldn't want to put inside the main part of the bag.
"The amount of storage you get with the Vanchi is, frankly, astonishing when you consider how it is smaller than the standard changing bag and looks more like a handbag," notes Tamsin, she also says she wouldn't have assumed it was a changing bag if she didn't already know.
The back of the bag is feature free and the bottom of it has four metal buttons on it 1) for stability and 2) to protect the base of the bag; Tamsin felt this was a really nice, and valuable, touch.
All Vanchi nappy bags come with a bottle holder, dummy safe, wetpack for storing wet things, changing mat, key clip, multiple pocket options and that lovely silver dummy charm.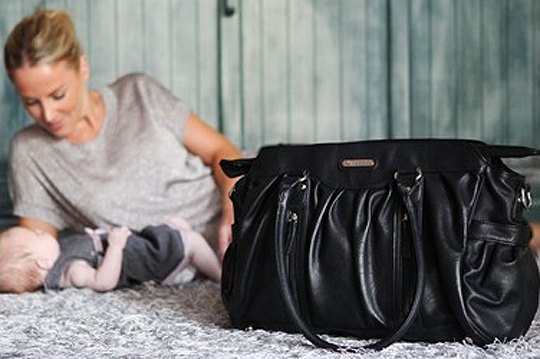 Tamsin was pleased to discover that the changing mat is lovely and thick, so gets top mark from her for that, but by far her favourite 'thing' was the dummy safe.
"This round gadget looks like a mini hat box and has a loop of matching fabric stitched on the top for easy access.  It is utterly gorgeous and ever so handy for grabbing a soother or urgent snack (for you OR baby)."
The key clip, on the other hand, is where the Vanchi 'Doctor' nappy bag fails for Tamsin - although this is the only negative thing she has to say about it.
"It's short!  The length of material is frustratingly stubby which would make it very hard to access keys with one hand, while holding a baby and the bag is either over your shoulder or on the pram," she comments, "I tried this out in both instances and in both cases it was pulled out of my fingers.
The hook at the end is also almost impossible to open with one hand.  I did try and eventually opened it with one hand but that was without my trying to slide the keys off it," Tamsin continues, "It isn't a great design and I am surprised at the stingy length of fabric when every other detail has been so lovingly attended to."
And finally...
It all sounds wonderful doesn't it (apart from the shortness of the key clip material) so I'm sure you're all sitting in the 'OOOH!!  I WANT ONE!' camp - will you change your mind when I tell you that the Vanchi 'Doctor' retails for £99.95?
If you don't have a love for bags then I'm sure you'll have just run away, screaming, into the 'Are you KIDDING?!' camp.  If you see nappy bags as a necessary evil, then you'll be over on that side of the fence too.
I expected myself to be there - I'm not fussed about bags, I don't love them and I certainly couldn't care less about designer luggage or bag names BUT, I do know that having something which makes you feel a bit special and 'glamorous' can make a big difference a new mum.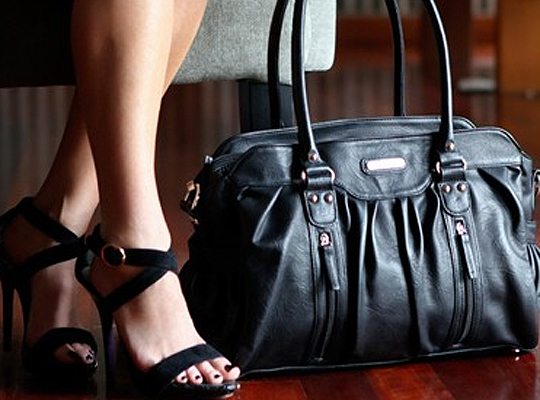 A Vanchi nappy bag will certainly do that but, I think, only if you already have a passion for bags.  Would Tamsin pay five pence shy of £100 for a changing bag?
"Yes," she says, "if it was a gift for someone special and my way of congratulating them, I would.  It is utterly gorgeous and I would even save up for one if I am honest.  Now that I've used it, touched it and played around with it, I ADORE it."
Tamsin has given us a list of her pluses and minuses which are thus:
The Pluses: Well designed, plenty of storage, looks amazing, comes in a variety of designs and colours, lots of extras, love the dummy charm, easy to clean (the exterior and interior are wipe clean), durable and colour smart
The minuses: expensive, rubbish key holder, not real leather so why is it so costly?
She gives the Vanchi 'Doctor' changing bag an overall score of 8 out of 10; the overall  mark comes down because it is undeniably expensive and in conclusion she has this to say...
"Any woman with a penchant for gorgeous hand bags will adore this on their baby changing arm. It is so classic that it will last for years and look great for years.  Gorgeous and expensive, it is a WANT TO HAVE thing and one you'd look pleadingly at grandparents for, it is LUSH!"