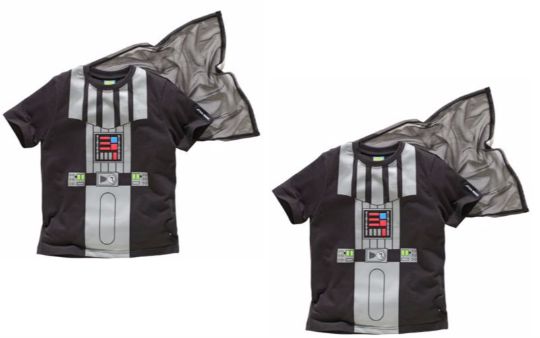 My boys will literally wear anything if it has a cape on it. This Star Wars Boy's Novelty Top has a cape attached and I just know it would go down a storm with them. Argos have reduced it from £5.99, which was reasonable to the bargain price of £3.99. This isn't a fancy dress costume but an actual item of clothing, however, it can be used to dress up in for the likes of Halloween.
The Star Wars Boys' Novelty Top and Cape consists of a Star Wars designed T-Shirt and a cape. The T-Shirt is made from 100% cotton which means it shouldn't irritate even the most delicate of skins. The cape is 100% polyester. It's all machine washable at forty degrees.
This cool top is available in sizes to cater for children aged three through to ten years old. Each size is in stock as I type this, so you stand a good change of snapping on up at your local Argos.
You can Reserve and Collect the Star Wars Boys' Novelty Top and Cape for FREE from an Argos store or pay £3.95 to have it delivered to your front door.