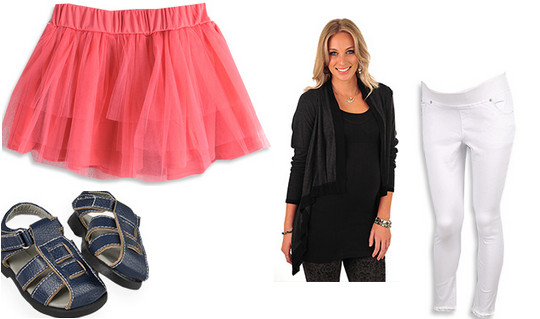 Pumpkin Patch currently has an offer of an extra 30% off their sale items, and free delivery. Clearly they're trying to clear some stock, and they're making it hard not to line my cupboards with next year's winter gear, saving myself a few pennies when the time comes.  Along with that though, there's plenty summery stock, possibly left over from last year.
Take an extra 30% off sale items at Pumpkin Patch*
Discount: 30%
Expires: Midnight, 15 March
Discount Code: UKSUMR4
My girls would love the tulle tutu skirt* in the sale for £5.50, but reduced to £3.85 with the code - delivered, that's not bad! It's only available in the 2 year old size, sadly.
These first walker sandals* were also £5.50, but again, reduced to £3.85 and again, an absolute bargain.
Not forgetting the lovely mums to be in our midst, there are currently 23 maternity items reduced to £10, add the code and you're looking at £7 a blouse, jeans, sweaters, and shorts - something for every season at the moment! Remember these are already reduced from upwards of £30, so a nice total of about 80% off in total. And the maternity range seems to have a much better spread of sizes in stock too.
If you or the smalls need a few top up items for the summer, Pumpkin Patch extra 30% off is well worth a browse.
For this and other Pumkpin Patch Promo Codes head over to our voucher page.
Thanks to Egoist for the heads up!