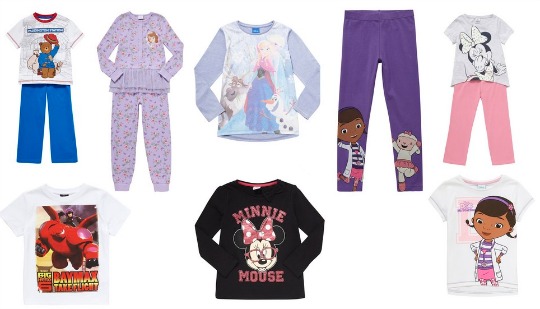 We have featured this sale at F&F a couple of weeks ago when it started, but now there have been a fresh lot of further reductions, so prices are even better value. Every one of the character items in the picture above are now £3 each!
If you have already looked at the sale when it first started it's well worth another look. Lots of the things I bought before have been reduced again, and there are still more than 500 sale lines in the baby and kids section.
Sizes are limited in some sizes, but if you are lucky there are some brilliant bargains. There are character pyjamas that are now £3 a pair including Paddington and Minnie Mouse, or for £3.50 you can get Disney Princess or Tinkerbell. You can get accessories from 50p, T-shirts from £2, slippers and shoes from £2, and trousers and leggings from just £2.50. How about 2 pairs of school shorts for £1?!
If you are buying Babywear then there are F&F e-Coupons that can save you up to £5.50 on your order over in our voucher section as well.
F&F clothing orders can be collected from Tesco stores for free, or home delivery charges are from £3.95.