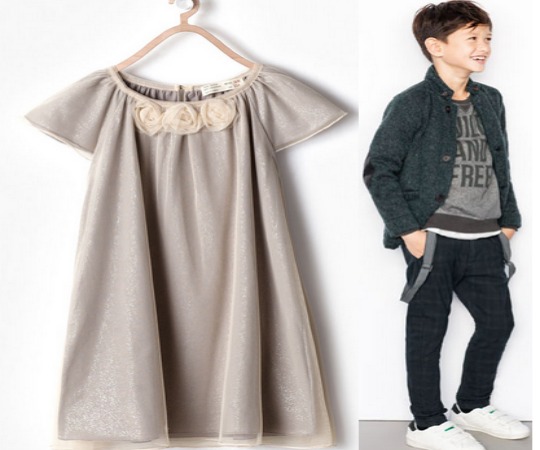 Oh dear, after spending a substantial amount of money in the Next sale, I am kind of thinking I should have held onto my money that wee bit longer. Why? The Zara sale that's why! It is awesome, loads to choose from and the reductions are fab. It is rare that I purchase anything full price for the kids out of there but when the sale is on then that is a different story. Items start from just £2.99 and you'll be hard pushed to find anything so stylish for the kids.
Oh seriously, this could end up a LONG post, ALL of the boys clothing is lovely, well in my eyes anyway. Here's a few of my favourite sale finds: This Padded Coat with Detachable Fur Hood* looks so cosy and has been reduced from £39.99 to £29.99. Knitwear wise, this Striped Cardigan with Elbow Patches* is reduced to under a tenner, at just £9.99.
The girls' dresses are to die for: This Dress with Fringed Pockets* at £17.99 is just like something straight off of the catwalk. In fact the whole collection is, and not a hint of tackiness in site!
Delivery costs £3.95 or free if you spend £50+. OR my preferred choice is to collect my Zara order from my local store which is FREE and means I get to have a nosey!