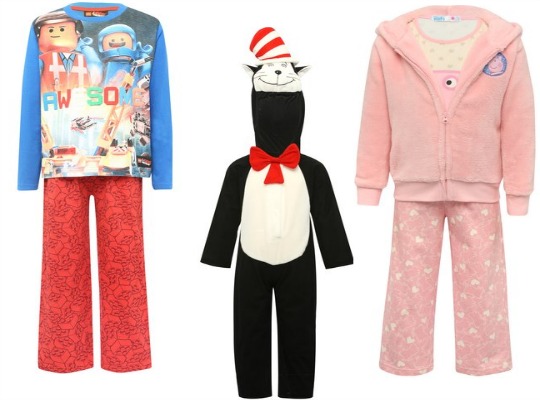 We blogged quite recently about cheap baby clothes at M&C0 and now we have found some right bargains on boys' and girls' clothing. Sale items start from only £1.50 and today is the last day of FREE delivery on ALL orders.
My absolutely favourite bargain on the whole of the M&Co site has to be the Peppa Pig Three Piece Pyjama Set* which is now only £12 delivered, reduced from £22. This set is very pink and very Peppa Pig. I just adore the fleecy pink zip up top that comes with it. they just look fine and cosy.
These Lego Movie Pyjamas* are now only £8 delivered, reduced from £14. This Cat in the Hat Costume* is one of THE coolest outfits I have ever seen. It was £19 and is now only £18.
This Sequin Eyelash Jumper* is ever so glam and is now only £7 delivered, reduced from £15. These Eyelash Jumpers are way comfier than regular knits.
I never even knew that M&Co sold branded clothing but they do and this Ben Sherman Shirt* has been reduced from £18 to £10 only.