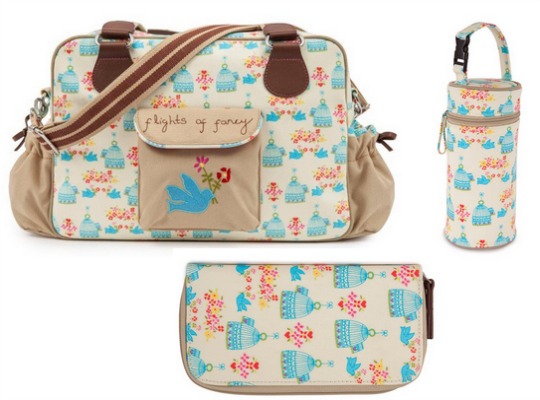 This morning Pink Lining posted this onto their Facebook page:
For 24 hours only, we've reduced the prices on selected items in our Birdcage print. Buy the wallet for £12.50, the bottle holder for £7.50 and the Flights of Fancy changing bag for £39.50! We'll have another very special 24-hour offer tomorrow, so don't forget to check back then to see what's next.

Right enough, they have reduced their Birdcage Print items. You will need to be quick as these will sell out so cheap, especially that changing bag. I have never seen a Pink Lining bag so cheap, unless it was second hand. Here's your chance to snap up a new one for the price of old.
The Flight of Fancy Changing Bag* was £79 and is now only £39.50. As well as looking super gorgeous, it is a fully functioning changing bag with pockets for nappies and thermo-insulated bottle holders.
To match that bag, you can have the Birdcage Wallet*. It's reduced from £25 to just £12.50. Even if you don't have a baby, it's still a pretty cool looking wallet. For just £7.50 you can also get the matching Bottle Holder*.
Delivery is FREE when you spend £50 or more, if you aren't spending that much then it'll cost you £4.95.