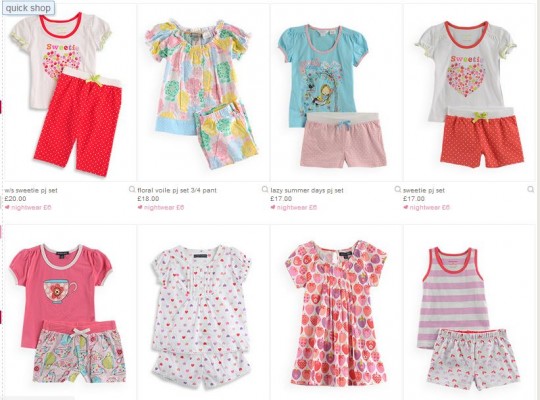 Pumpkin Patch has a sale on children's bed time wear, with a few PJ sets reduced to £6, largely from £17, but some as much as £20.
While I'm not big on spending a fortune on children's clothing, I do like Pumpkin Patch. They are really good quality, at least in my experience, and will easily last for two children. When I had my first daughter we received a lot of Pumpkin Patch clothes from friends in South Africa, and my little one still wears them and they pretty much still look new.
The pajamas are summer wear - so you know they've not sold too many! - and are either dresses or two-piece PJ's.
The lazy summer days pj set is pretty cute, as is the tea cup shortie pj set.
This deal was voted quite cold on HUKD, so I'm clearly missing something here, but I think Pumpkin Patch clothes are great quality, and they cost about the same as supermarkets, at these prices.
Sleep tight!
Thanks toto123 at HUKD