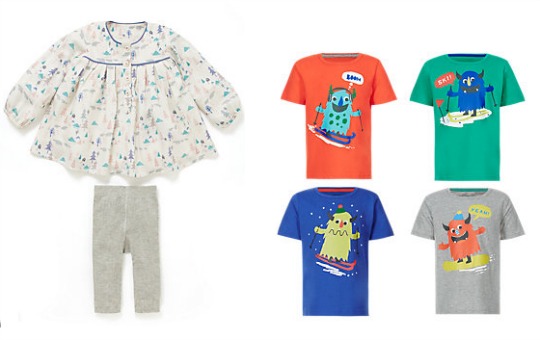 Like the children's clothing at Marks and Spencer but put of by the price? Well today is your lucky day, head over to the M&S site today and you will get up to 30% off their lovely range of kids garments. Items start at just £1.20, and the reductions are part of the Marks and Spencer's 4 days of Sparkle event. Items across the site are discounted, included premium beauty, just in case you fancy slipping yourself a wee cheeky present into the basket.
There's something very special about Marks and Spencer at Christmas time. Nice Christmassy children's clothing, like these Robin* and Snowman* slipper socks at the discounted price of £3.20.
I always got my Christmas Day outfit bought for me from M&S, so here's so cute items, that are also a bargain that I have found over on their site: This two piece Woven Top and Leggings Outfit* is smart but not too formal, for those having a relaxing Christmas Day. Nothing screams festive fun more than this Cotton Rich Mittens Dress & Tights Outfit* reduced to £16- £17.60.
For boys, their knitwear is just fantastic. Check out this Cable Car Jumper* if you are after that Christmas jumper. It's now from £9.60.
Don't forget about nightwear either for Christmas Eve with this Disney Frozen Nightie* from £9.10 or these Lego Superheroes Pyjamas* from just £9.10.
Save on postage costs and collect your children's clothing event items for FREE from your local Marks and Spencer store.