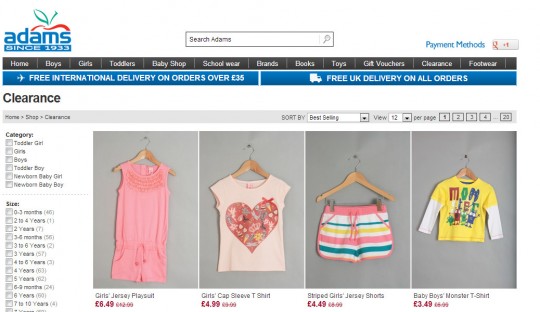 Adams has a sale on almost 200 items of children's clothing, with items starting as low as £1.75 for boys socks and stretching up to £24 for a girls winter jacket. This is obviously this year's winter stock, and possibly last summers too, but I don't think too many of us are too fussy about that, especially for children's clothing!
There's roughly 50% off everything, with a few exceptions. The Adidas range, for example, only have a few pounds off each item, bringing them from around £17 to around £14. Other items have more of a discount though, and some greater than 50%. The Toddler Girls Pale Grey Baby Cord Trousers BS for example, were £21.99 but have been reduced to £8.80.
What is extra nice about this sale is that there's free shipping anywhere in the UK, which is a £4.99 saving - enough to buy any one of 75 sale items! Even better though, is that you could buy for someone abroad and have it shipped to them free of charge so long as you spend over £35 in the store. I've spent that on posting presents in the past, so considering that the Southern Hemisphere is heading into winter soon, it's worth considering if you have people on the other side of the world!