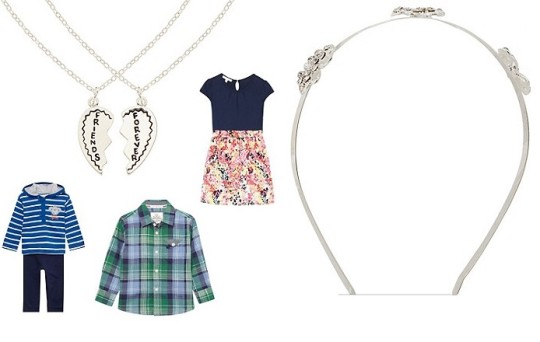 Debenhams is currently offering up to 70% off kids clothes and accessories, which means you can pick up some fantastic bargains from £1.50. There's free pick up in store, or delivery is available from £3.99 unless you spend over £30, then its free.
Whether you're shopping for clothes for the Christmas box, or something nice for the kids to wear to a Christmas or New Year's Eve party, or even if you're just looking to top up their wardrobes, with prices starting at £1.50 now's a great time to visit Debenhams.
Not just clothes, but there's accessories too, and I'm thinking that the little 'Friends Forever' necklace set could be a nice gift for my daughter's little bestie - not bad for £4, and I know she'd love and feel like a princess in that £3.50 alice band.
Clothes-wise there's a lot there for summer wear, but some of it is easily versatile with a pair of tights and a jumper, so again, great for emergency topping up if the kids decide to growth spurt just before things get really manic. Mine don't seem to stop.