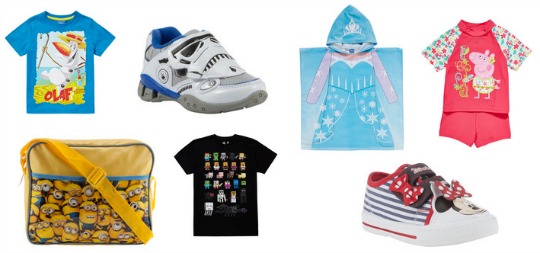 The Summer Sale at F&F clothing has just got much bigger! Today they have added nearly 500 new items to the baby and kids section of the sale, with these new clothing lines starting at just £1!
The new to sale items are mostly just the things we need for the summer holidays like shorts, t-shirts and vest tops, swimming and sun suits, sun hats, and summer shoes and nightwear. There are so many new things for boys, girls and babies, and it's certainly made me feel better about the pain that is the Mothercare sale preview!
The direct links to F&F aren't compatible with our site for some reason, and they never work, so I can't link you to individual items, but if you want character clothing then I found Frozen, Star Wars, Adventure Time, Spiderman, Huk, Minions, and so much more. I looked closest at the boys things, but there are just as many brilliant bargains for girls. Keep a look out for the Ice Cream handbag for girls - it's now £3 and it's about the sweetest thing I have seen!
The existing offers on clothing also work on sale items, for example some nightwear is on Buy One Get One Half Price, and that's still working on sale items.
Once word gets out about these new sale items they will start to sell fast so you need to be quick to grab the best stuff. And seriously, having waded through the Mothercare sale the clothing here is way cheaper.
You can click and collect your F&F clothing order from larger Tesco stores or you can home delivery charges are from £3.95 or free when you spend over £50 (and that takes some doing at these prices.)
How I'm going to hide all these new things from my husband I have no idea...