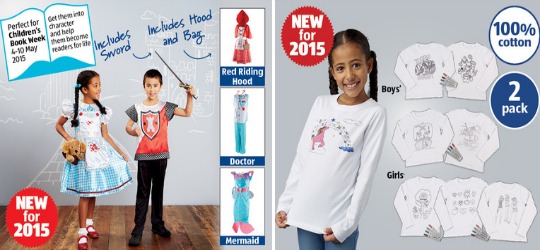 Looks like I'll be popping to Aldi again - they have loads of kids clothing at fab prices from next Thursday 12th February. As well as the regular clothing like raincoats, wellies, onesies, trainers, undies and so on there are two new items that look really great - Dressing Up Outfits for £4.99 and Colour In T-shirts at £3.99 for 2!
The Dressing Up Outfits* have been bought in for World Book Week in March (yes, it's that time again). Each one is only £4.99 and you can choose from Red Riding Hood, Fairytale Girl, Knight, Doctor and a Mermaid!
The Colour In T-Shirts* look amazing, and at £3.99 for a pack of 2 including the colouring pens they are a super buy. There are loads of different designs with Pirates, Knights, Monsters, Unicorns, Animals, Hearts and more. They are a definite for a Half Term project in our house!
This is the rest of what's available in children's clothing from 12th February:
Raincoat - £7.99
Wellies - £5.99
Onesies - £3.99
Children's Umbrella - £2.99
Pack Away Gilet - £5.99
2 Pack of Joggers - £7.99
High Top Trainers £5.99
3 Pack of Vests - £2.99
Underwear 3 or 5 Pack - £2.79
Socks 5 Pack - £2.99
As always these are in store offers only, and are subject to availability so some of these items will sell pretty fast. The details for all these Special Buys are on the main link above.