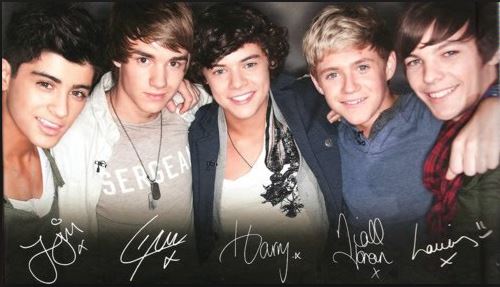 Are you or someone you know going to see One Direction on the tour that kicks off this week? If so, you might want to give your fan a few 1D items of clothing to choose from. There's a 25% discount that will automatically be applied to your basket, and then there's also a discount code for an extra 10% off, and free delivery.
Proclaim your One Direction Love with Tesco*
Discount: 10% Off
Ecoupons: FFHOLIDAYTREAT
There's a One Direction Heart Print T-Shirt at the regular price of £9 - take off 25% automatically take £2.25 off, and then use the code above for an additional 68p off, bringing the total to £6.08.
The same goes for the £6 One Direction Heart Logo Leggings - the automatic discount drops them to £4.50, and another 45p takes them to £4.05.
And your delivery is free, so you're getting both for £10.67 delivered, instead of £16. Not too shabby.  Of course, there's more 1D stuff to choose from too, so follow the top link, or click on the picture, and see what you can find with prices ranging from £3.33 (discounted price) for One Direction sun glasses.
You can find this and other Tesco eCoupons on our vouchers page.