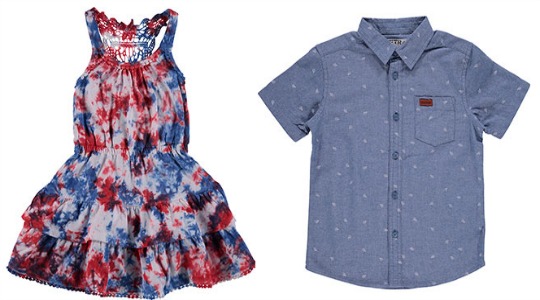 There are some shops that I cannot walk past. TK Maxx is the main one, closely followed by Marks and Spencer Food Hall. They sell online which not many people realise and just now they have a cracking Clearance on. Children's Clothing items start from just £4 and there are lots of big brands like Diesel, Converse and many more to choose from.
I am quite pleasantly surprised how good the Children's Clothing Clearance is online. My local TK Maxx is pretty rubbish when it comes to stuff for the kids. I seem to find plenty for myself though.
Here's what caught my eye in the TK Maxx Clearance: Milk Copenhagen Animal Print Sweatshirt* now £4, Andy and Evan Houndstooth Babygro Shirt* now £4, Converse Multicoloured Kids Outfit* now £4, Shrinking Violet Tie Dye Dress* now £6, Firetrap Boys Shirt* now £6 and Diesel Super Slim Jeans* now £14.
TK Maxx are trialling Click and Collect in Birmingham and selected Midlands stores. If you are elsewhere in the United Kingdom your only option is home delivery which costs £3.99 unless you are spending over £50 then it's FREE.