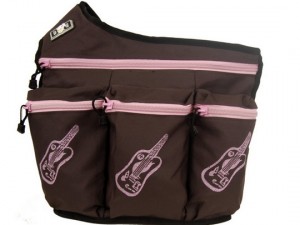 The Diaper Dude Guitar Diaper Diva Bag is reduced at Amazon from £57 to £21.35 for a 63% saving. It's a great bag for dads, by the looks of things, because it's not too girly, even though it's brown and pink.
There are fantastic reviews on the site with a few long and well thought out ones, and one of the main things is that it lasts really well and is durable.
Apparently it's a deceptively roomy bag. It has space for bottles, formula dispensers, baby food, spoons, burp cloths, bibs, small toys, changing pad, wallet, nappies, lotions and potions, wipes and whatever else you need. If anything it sounds like it may be too heavy to carry long before it's too small.
There's a mobile phone pocket, but that's very small. The bag also has attached stroller clips, is made of a heavy canvas and has 'heavy duty' zippers.