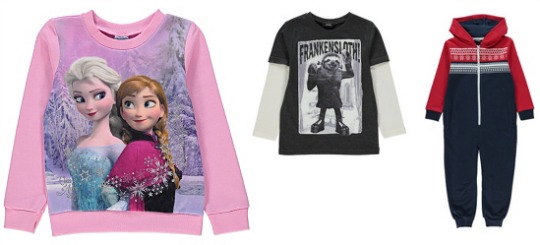 Asda George have been a bit heavy on the sales of late, but we will gladly accept all the bargains they keep throwing at us, especially when it includes Disney Frozen tops. This particular clothing sale hasn't actually been launched but if you receive emails from Asda then chances are you will have a preview link in your inbox. Follow the links on this blog post and you shouldn't have any bother buying anything.
With items starting at a magnificently low 50p, we can't help but rave about this sale. Okay, so it's like the 100th one Asda George have had this year, but it's still good.
For baby there's lots of nice goodies to be had, including: this "I love hugs and cuddles" top* for £1. These two pack of Long Sleeved tops* are a steal at £3. There's lots more so have a good nosey.
Both the boys' and girls' sale selection are great. The Aztec Onesie*has a Christmas feel to it and is now only £5, reduced from £9. My favourite girls' item is this Smile Hoody* half price at £5. There's too many items to list but this is a super sale, so have a right good look.
Any of the clothing items can be collected for FREE from your local Asda store or pay £2.95 for delivery.