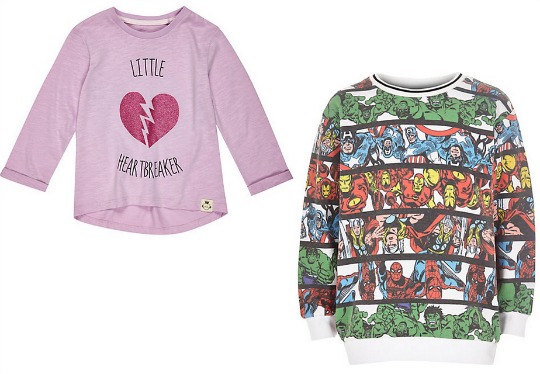 Kids clothes don't come any cooler than those from River Island. There sale is still running and they have slashed the prices right down. Grab those bargains whilst you can because these sales in the High Street retailers will soon disappear. It'll just be the dregs left. There's lot's of lovely items in the River Island sale, and things start at just £1. You might want to have a look at the last of the women's and men's section.
The River Island selection of kiddy's clothing is just what you would expect from River Island. High fashion with a difference. It's just like they have shrunk down men's and women's clothing. You will either LOVE it or HATE it.
The Heartbreaking T-shirt* was £8 and is now just £4, it's just adorable and will suit any little beauty. This Los Angeles Baseball Cap* is for the more fashionable girl, and it's now only £5.
This Boys' Teddy Baseball Cap* was £10 and is now only £3. It's a great buy as is this Marvel Sweatshirt* for £10.
Collect your order for FREE from your local River Island store or pay £3.95 for delivery.