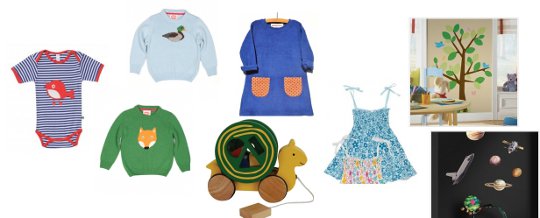 Not Pink have their January sale on and are offering up to 50% off on children's clothing and accessories at the moment. A few of the items have low stock levels, but most of them are still available, and include ranges such as Tootsa MacGinty, Dandy Dodo, Nadadelazos and Green Baby.
Not Pink have 47 clothing options in the sale, with prices starting at £5.40 for the lovely Blue Stripe Short Sleeved Bodysuit by Green Baby, to £24.80 for the Fox Jumper by Tootsa MacGinty or the Duck Jumper also by Tootsa MacGinty.
Between the minimum and maximum prices you'll find such beauties as the Blue Terry Dress by Nadadelazos, which is reduced from £21.99 to £16.50, and the please-bring-on-summer-cute Strappy Sundress by Green Baby, which is only £8.99 now.
The Rolling Snail Sorter (£14.40) is really sweet too, although stocks on that are really low.
If you're looking to decorate without the fuss of painting, either the Giant Tree Wall Stickers (£29.74) or the Space Wall Stickers (£12.99) might appeal?
StandardUK delivery from Not Pink is £4.95 and all items are sent by courier.