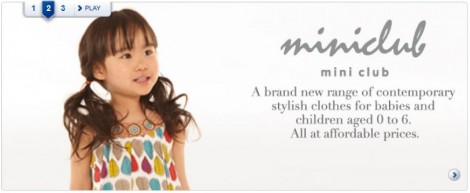 There's up to 50% off clothes for children ages 0-6 instore at Boots Mini Club.
You can't buy anything online, which is unfortunate, but you can have a look at the kind of clothes they have on offer.
There are a number of ranges such as "Isn't She Lovely" for baby girls, "All things bright and beautiful" for girls, "Bows and Arrows", a range inspired by British heritage for boys and girls which uses prints and classic tailoring,  and "Min Club Collectables" – timeless classics for special occasions, again for boys and girls.
For sleeptime there are sleep suits, pyjamas and slippers, while there's also a fantastic children's swimwear range available – just in time for summer. (I hope! It's still pretty nippy in our neck of the woods!)
The "miniature" collection is aptly named for premature and low birth weight babies, from 3lbs to 7.5lbs.
Mini Club clothes aren't the  cheapest children's clothes on the market, but with 50% off they're definitely worth a visit to your local –large - Boots store.