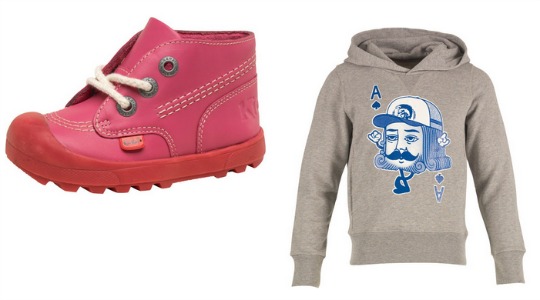 M and M Direct is the place to go if your kids are reluctant to wear anything but brand names. Sure, you could flat out refuse to buy designer wear, but the soft side of you remembers how brutal being a teenager was. The Children's Clearance at M and M Direct has items from just £1.79, so you can actually afford to buy them clothes that they won't turn their noses up at without having to re-mortgage the house.
Let's talk about school shoes, you would normally have two options, pay £££'s and get a sturdy pair of shoes or pay little and get a pair that last a month. Go over to M and M Direct and get a reputable brand of shoe for less. Check out these Hush Puppies School Shoes: Girls' Helma Shoe* now £12.35 and Junior Neka Shoes* now £13.59.
These Kickers Girls Pink Boots* are a great price at £17.99. Summer footwear: Adidas Hyperfast Trainers* now £10.49, Ugg Baby Girls Yia Yia Sandals* just £7.64 and Koala Kids Girls Flip Flops* just £2.25.
Delivery costs £3.99 but if you are spending over £30 be sure to use promo code LWC2 at the checkout to get FREE delivery.