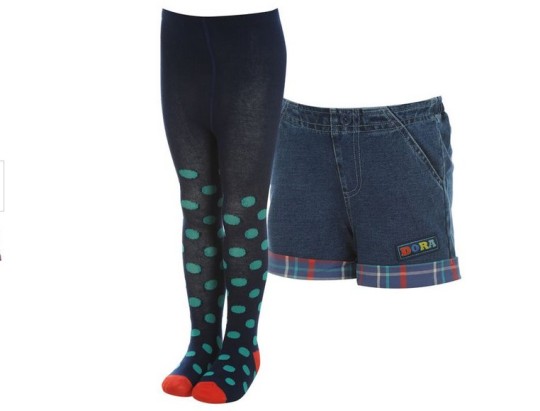 Sports Direct have this lovely Character Shorts and Tights set on offer for £3.99 down from £15.99. Delivery from SD is £3.99 so if you're having it delivered it's well worth having a look at the other items and grabbing a few of the other bargains too, like shorts for £3, demin dress for £6 and so on.
The Dora Shorts and Tights set is a "simple yet fashionable design". The shorts feature an elasticated waist so no fiddly buttons to contend with, perfect for a fashionable youngster and it's ideal for this time of year - shorts for warm days, and tights for chillier weather.
The shorts have two pockets and are 100% cotton, and the tights have a cute polka dot design. Obviously - and I'm not sure why they feel the need to say this - but both items are machine washable.
The set is available in three sizes in ages 2-3, 3-4 and 4-5 and seems to be in good stock too.