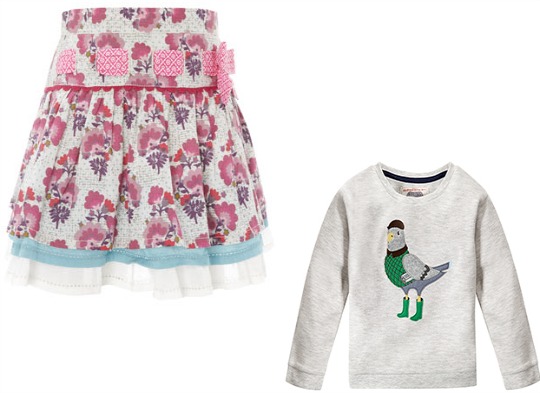 Monsoon sure know how to do sales. I go nuts when they have one on. Folk rave about the Next sale and sure it's good but Monsoon are superior in quality, in my opinion. Their stuff is pricey but in the sales it's very affordable, in fact children's clothing starts at just 90p. If you have a dress loving daughter then you are luck as there's more frocks than at a Miss World Contest. Items are limited as it's the end of the sale but have a good look and you will bag a bargain.
There's much more choice for girls in this sale than for boys, but that tends to be the way in a lot of High Street retailers. Do the female species purchase more clothes I wonder?
Here's my top pick of the girls' items: Baby Skye Skirt* was £15 now £4.50, Gwendeline Fur Gilet* was £28 now £14 and Baby Striped Hedgehog Laced Dress* was £22 now £11.
I could list all of the dresses that caught my eye but that would be all of them. Monsoon dresses are one of the reasons I want a daughter. They are gorgeous!
For Boys': This Camo Snowsuit* was £40, now only £12 and Clive Cloud Shirt* was £14 now £4.20.
Save on postage fees and collect your order for FREE from you nearest Monsoon store.