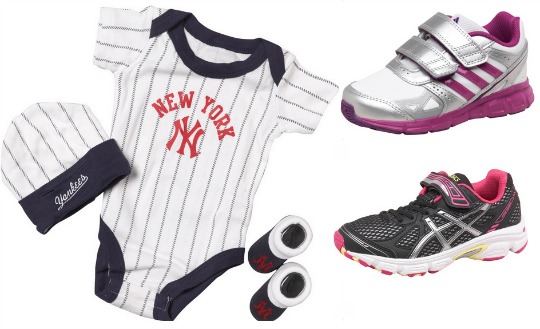 M and M Direct are an online retailer that sells branded clothing at very small prices. They have a big clearance on just now and children's items are from as little as £1.02. If you have never shopped with them before, then it is really worth a look to see what bargains you can pick up.
M and M Direct have lots to choose from for both boys and girls. These Kickers Girls Adlar Star Sandals* in pink really caught my eye. They are pretty and only £16.99, with an RRP of £34.99.
I never knew that UGG did Trainers but they do: Ugg Kids Speedy Hi Tops* RRP £45.99 only £16.99. Asics Junior Boys Xalion 2 Running Shoes* RRP £39.99, only £15.99. The Girls Version* are only £13.59.
Got a baby to buy for? They cater for them too which little gems like this Majestic Athletic New York City set* for just £6.47 or this Peppa Pig Girls' Onesie* for £7.19.
Delivery can be FREE when spending over £30 by enter promo code MDF5 at the checkout. If spending under the £30 mark then it costs £3.99.