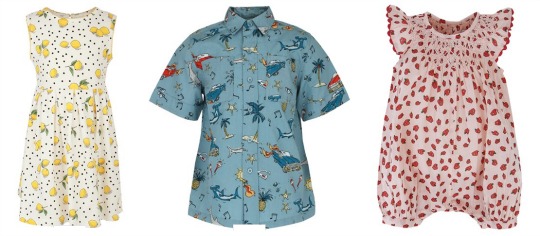 If you love designer clothing but aren't keen on the prices then the Alex and Alexa summer sale is definitely worth a look. Although the sale started a little while ago they have just made lots of further reductions and there are now savings of up to 60% on high end clothing for babies and children.
Accessories start from £2.10, and a few bits of clothing from £2.40 and most of it from around £6 and upwards. There are big names like Fendi, Dolce & Gabbana, Stella McCartney and Moscino, as well as others like Joules, Lacoste, O'Neill and lots more. The royal favourite Rachel Riley has her clothing in this sale as well for those who like to follow how Kate dresses Prince George.
There are some beautiful pieces of clothing, and the girl's especially are just lovely. Some of these are still more that I would be happy paying for day to day children's clothing, but even I can see that saving 60% on a designer dress for a wedding or party is good value. And as it happens there are clothes for lots of different budgets. The top end designers are still pricey, but no one is going to be buying an Oscar De La Renta outfit for playing in the mud, these are special occasion items.
Delivery is free on orders of £50 or more, or charges are from £3.95 if you are spending less. Returns are also free so you can send things back at no extra cost if they don't fit.