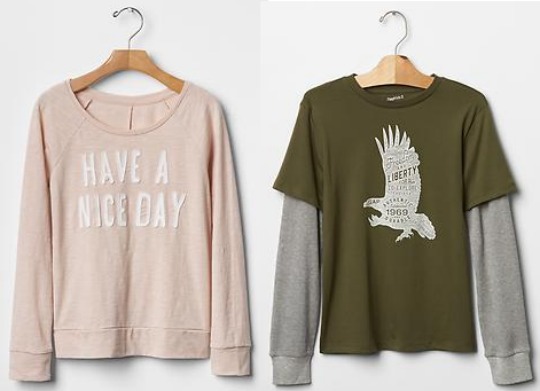 GAP are cool. I appreciate their laid-back style of clothes. GAP Kids has always been a High Street favourite of many and in recent years their sales have been hard to beat. Their January sale is still running and they have just added new lines. Children's clothing items start from just 99p. Now's the time to stock up for the kids.
GAP certainly have a LOT of choice for both boys and girls.  There's plenty of gorgeous baby/toddler clothes bargains, like these: Starry Bear Tights* was £6 now £4.99, Floral Print Leggings* was £8.95 now £7.99 and Dr Love 2-in-1 Top* was £12.95 now £10.99.
For older kids these are good buys: Warmest Puffer Jacket* was £44.95 now only £19.99, Floral Chambray Pocket Top* was £16.95 now £9.99 and Have a Nice Day Top* was £10.95 now £8.99.
As this is the tail end of the sale some items have a limited availability in some sizes. Have a good look though and hopefully you will find a good bargain.
Home delivery costs £4 and there's no option to collect from store.