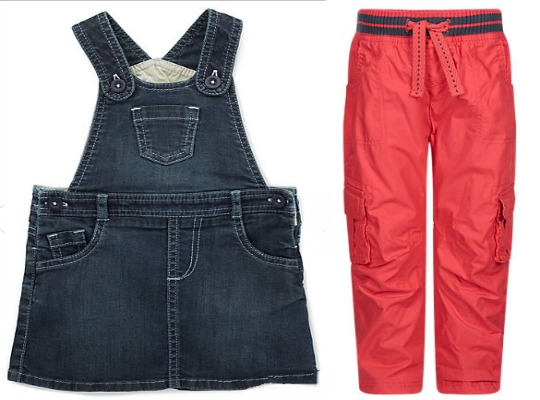 This is the best sale at Marks and Spencer sale that I have seen in a LONG time. Seriously, if you want the good stuff get over there now! There are so many items included and some with as much as 70% off. Stock levels are good on most items but some items have sold out already.
Here's my top picks for the Girls: Cotton Rich Denim Pinny Dress* was £14 now £2.99, Pure Cotton One Direction Harry Pyjamas* now just £2.99 to £4.99, Anti-Bobble Peppa Pig Dress Gown* was £3.99 to £7.99, Leather Crossbar Shoes* now £10.99 to £13.99, Hello Kitty Cotton Rich Pyjamas* now £3.99 to £5.99 and Pure Cotton Striped Dress* now £5.99 to £9.99.
For the Boys: Pure Cotton Flightcloth Cargo Trousers* now £2.99 to £3.99, or in Blue*, Pure Cotton Chunky Lined Cardigan* now £6.99 to £11.99, Leather Lace Up Ankle Boots* now £8.99 to £12.99 and Angry Birds Glow in the Dark Pyjamas* now £2.99 to £6.99.
You can Click and Collect your Children's Clothing Sale order for FREE from your nearest Marks and Spencer store  or pay £3.50 to have it delivered to your door. Spend £50 and get FREE delivery.