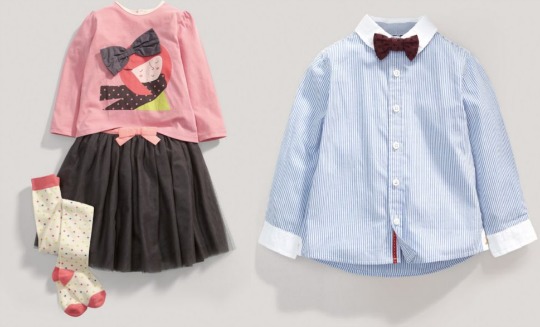 You have got to LOVE Mama's and Papas clothes! What I don't like is the price. So, when they have a good sale on, I'm not talking 20% off or that, but 50% off and more, I go nuts! Well, it's time to go crazy because they have up to 70% off and it includes partywear items. Every little person has a Christmas party to go to or maybe they need something fancy to wear for Christmas day. Prices start at just 90p, so there you are, go mental and fill that basket.
Oh the girls' sale is fantastic, if only I had a daughter to dress in these beautiful bargain dresses! I have picked out five absolutely stunning little party or Christmas day outfits, that have been slashed in price. Here they are: Girls' Navy Sequin Dress* was £36 now only £10, Girl's All Over Printed Dress & Tights Set* was £30 now £9, Girls' Silver Flapper Dress* was £40 now £10, Pink Crushed Velvet Dress* was £30 now £10 and Silver Tutu* was £14 now £9.80.
The boys stuff is fab too, I particularly like Boys' Two Piece Shirt and Bow tie* was £18 now £9 and Welcome to the World Four Piece Waistcoat Set* reduced to £24 from £48!
Thanks to Celine over on our Facebook page!