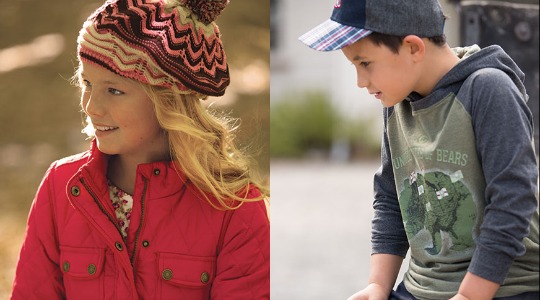 Pumpkin Patch tend to have some kind of sale or promotion on these days, but don't let that make you feel like you aren't getting a bargain. There's plenty of them to be had on the Pumpkin Patch site. In fact A LOT of items are just £7 or less and you get FREE delivery. The clothes are the quality of GAP for the price of Primark in my opinion.
You could actually completely kit the kids out for next to nothing. There's one thing I will say is that their delivery is SO SLOW, but I can forgive them for that due to the savings they provide.
For the girls' I have found some lovely items at great prices: These Glittery Shoes* are just £4.99 delivered and are so cute. This Peplum Fox Tee* can be bought for just £5.
For the boys' this Hooded Top*is only £5 delivered, and can be found in three different colours. These uber cool Cargo Roll Up Jeans*are just £7 to your door!
Like I said delivery is FREE, but it isn't the fastest so don't expect to get this before Christmas, although it is the season of miracles, so who knows.