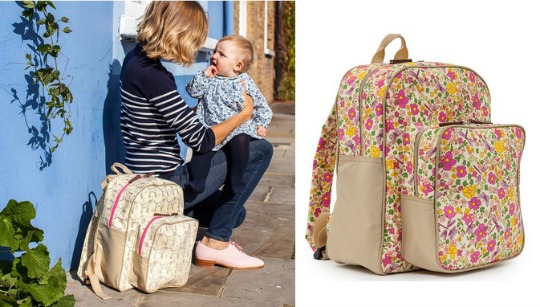 Like the look of those Yummy Mummy Changing Bags by Pink Lining but would rather have something you could wear? Backpacks are the way forward. I use one when my son is on his reins as there isn't anywhere to hang the changing bag. Pink Lining have their Wanderlust Backpacks reduced by 50% for the next 24 hours only. This means that instead of paying £79 you will now only pay £39.50.
There's a choice of three different patterns: Sam the Dalmatian, Cottage Garden and Sunflowers. Each Wanderlust Backpack is split into two handy compartments. To the front, is an insulated bottle holder and a mesh pocket. At the back, there are pockets for your purse, lipstick, mobile phone and whatever else you carry with you. There's also enough room for a change of clothes for baby, nappies, wipes etc.
If you are not sure about the backpacks then have a look to see what else is in the sale. There are some great reductions on the more classic Pink Lining style Changing Bags, here*.
The delivery charge is £4.95 at Pink Lining unless you spend £50 or more, then it's FREE.