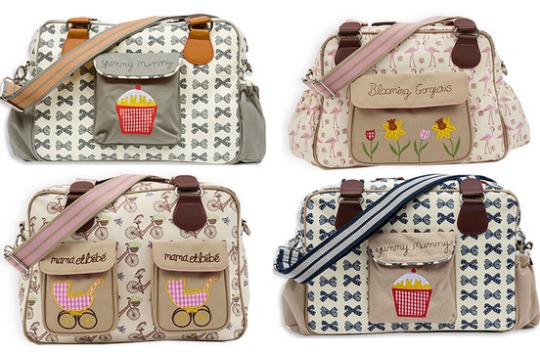 You lot go daft for those lovely Pink Lining changing bags, so here we have a fantastic deal. Pink Lining changing bags from just £32.98 delivered, at Pumpkin Patch. I don't know about you, but I didn't even know that they sold them over at the Pumpkin Patch site. I am not complaining though.  Be quick because I doubt these will last at this super price, and if you ask me it's all the popular designs that are there. Just us Pumpkin Patch promo code UKMAT at the checkout to get these scrumptious bags for half price with FREE delivery.
Those Yummy Mummy changing bags from Pink Lining are so popular, that if you were to keep it in good condition you'd make most of your money bag selling it once you are finished using it. It's not unusual to see them priced at around £70, so this price is unreal.
I like the bicycle print on the Mama et Bebe In The Mews changing bag*. It's pretty trendy and would please many mums should they receive one for Christmas. This is £35 delivered when bought using the promo code.
Also at £35 delivered is the Blooming Gorgeous Changing Bag* and the Not So Plain Jane bag* is just £32.98 delivered with the promo code.
Thanks to Kitkat @ HUKD