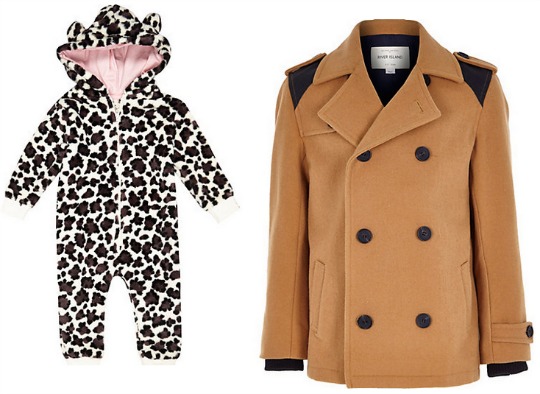 River Island do Children's clothes and either I didn't know that or I had forgotten. I will cut to the chase, their kiddies stuff is GORGEOUS and uber trendy, just like the adult attire they offer. Their sale has begun, and as much as I wanted a gander at the womenswear, I just couldn't tear myself away from their bargains in the childrenswear. Items start from £1 and there's 725 garments to choose from.
If you like your kids to look fashionable, like something out of Hollyoaks then River Island is THE retailer for you. The boys' and girls' selection are equally as gorgeous.
This Girls' Stylist Bobble Hat* is now only £4 and would look great on any little fashion conscious female. These mock Chanel* and Dior* T-Shirts are nothing short of fab at £4 and £5 each.
The Aviator Jacket*for boys has to be one of the coolest pieces of clothing I have ever clapped eyes on. It was £40 but is now a very reasonable £20. Sticking with the cool theme the Orange Star T-Shirt* is really trendy for just £4, reduced from £10.
Save on the £3.95 postage fee and opt to collect your order for FREE from your nearest River Island store.