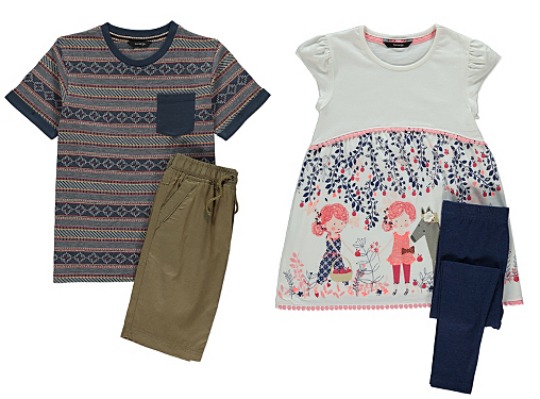 Every now and then George at Asda bring out a range of clothes that they put a special introductory price on. The price is normally £5 and it still is on this current selection. Most items have a saving of £1 or £2 but when you deduct that from clothes that are already cheap, you are getting a bargain. There's some lovely in season clothes for boys and girls and they are ALL £5 or less.
Here's what you can get your hands on for the boys, if you are quick: Patterned T-Shirt and Shorts Set* just £5, Mid Wash Shorts* just £5, Rib Waist Cargo Trousers* just £5 and Set Sail T-Shirt* from £2.
For the girls: Embroidered Sun Dress* just £5, Orchard Dress and Leggings Set* just £5, Corsage Shorts* just £5 and Floral Skirt* just £5.
Seriously, there's bargains galore and if the size you need is sold out online, check your local store.
You can click and collect your Children's Clothing order for FREE from your local Asda store or pay £2.95 to have it delivered to your front door.