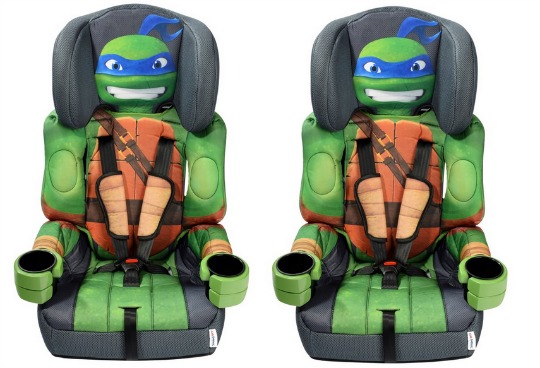 If your children are fans of Teenage Mutant Ninja Turtles then this cool car seat might be a good choice for them. It's a group 1-2-3 car seat and has £20 off at Smyths Toys, making it £59.99. Everywhere else that sells this seat is still charging the full £79.99 for it, so this is a big discount.
But do novelty car seats like this provide adequate protection for your child? That has got to come first so make sure before you go any further you read oor guide to choosing the best car seat for your child.
It's suitable from around 9 months of age right up until your child no longer needs a booster seat, at around 12 years. It has a 5 point harness for use as a group 1 seat, and then can be used with a standard car seat belt for older children. The backrest can be removed when and if you want to use the booster seat pad on it's own, the head rest is adjustable, the straps are padded, and the seat reclines. And of course there's the cool turtle detailing, as well as the two cup holders, and the cover can be removed and machine washed when those drinks get spilled on it. ;)
There's no delivery charges to add as this TMNT car seat is over the minimum spend for free home delivery, or you can also buy it in stores subject to availability.