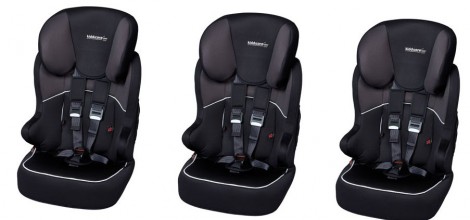 The Super-Tarmac car seat is just over half-price at Kiddicare, selling at £29.97 instead of £60 and for the duration of the weekend – when the offer ends too – delivery is free.
We've been scouring the web for a new car seat as our little girl has grown taller than her chair and pretty much hates the bucket seat. This Super-Tarmac seat from Kiddicare is suitable for children 9 months to 11 years, or 9 – 36 kg.
The Super-Tarmac seat fixes into the vehicle forward facing with the cars 3-point seat belt. The car seat comes complete with a 5-point safety harness and chest and crotch pads, it has a height adjustable head-rest so it will grow with your child and padded arm rests for your child's comfort whilst travelling. The seat is lightweight and will fit most vehicles.
It also has a washable cover. As it's our first ever child-seat purchase, I'm rather influenced by the views of others on it, and with 81 reviewers giving this seat 4.5 out of 5 stars, it seems a really good deal.
The offer ends on May 2nd and, as I said, delivery is free for the weekend.