MASSIVE Clearance On Nursery Items INSTORE ONLY @ Smyths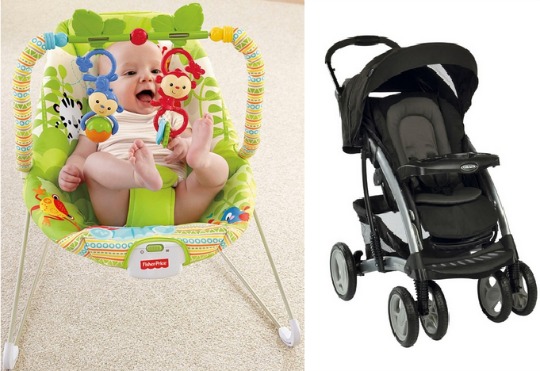 If you live near a Smyths and are after a right good bargain, then you may just be in luck. We are very lucky to stumble across a list of clearance items that are HEAVILY reduced. We aren't talking about a fiver or a tenner off, oh no, these items are going for peanuts next to their original selling price!
It might not be easy getting your hands on one, but our advice is to ring your store and enquire as to whether they have the item in stock, and if they could possibly hold it for you.
Here's what to look out for:
Doc McStuffins Toddler Bed (129160) - Was £59.99 now £19.99
Baby Elegance Beep Twist (127241) - Was £219.99 now £99.99
Graco Quattro Travel System (127886) - Was £249.99 now £9.99
Sensory Smart Stages Bouncer (139841) - Was £69.99 now £29.99
Dream Booster Seat (138705) - Was £12.99 now £4.99
Fisher Price Rainforest Bouncer (134143) - Was £49.99 now £9.99
Britax Kidfix Group 2-3 Car Seat (134048) - Was £79.99 now £19.99
Koochi Speedstar Stroller (131692) - Was £49.99 now £14.99
Babylo Elly Bouncer (130586) - Was £29.99 now £9.99
Tommee Tippee Nappy Disposal System (106809) - Was £24.99 now £1.99
Junior Bedding Bundle Winnie the Pooh (139821) - Was £19.99 now £4.99
Graco Logico S Car Seat Group 0 (104214) - Was £49.99 now £9.99
Quinny Buzz Carrycot (127485)* - Was £99.99 now £14.99
Universal Black Parasol - Was £12.99 now £1.99
Universal White Parasol (110885) - Was £12.75 now £0.99
Thank you to JackRH1 @ HUKD