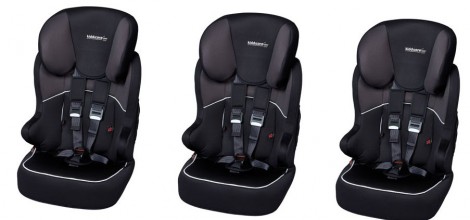 Car seats have been the bane of my existence since my daughter's birth. We have used five different seats over the last 19 months and still, every car journey is a nightmare, involving screaming, clawing, begging and sobbing (her) and heartache, frustration and tears (me). That may sound extreme, but when you're doing 70 miles an hour down the motorway and the child you strapped in as tightly as you could without bruising her pops her head out between the front seats saying 'mummy!' and her arms and legs are blood-red from where she's squirmed, contorted and twisted her way out the car seat, you start dreading driving anywhere.
It's certainly not an easy decision to make which is why we've written a handy guide on how to choose the best car seat.
So, I decided that even though she's only 19 months, it's time to move away from the bucket seats and get a 'proper' car chair. I spent hours trying to find something suitable and finally ordered an own brand chair from Kiddicare. The Super-Tarmac Car Seat arrived within a couple of days (and I received an email on the day to tell me they'd be with me between 9:02 and 10:02 – they turned up at 9:09) and was carefully packaged, without excess stuffing and everything could be recycled, which I liked.
The chair is magnificent. It was really easy to install, with easy to follow picture instructions and labels on the chair itself. It is high enough that my daughter can see out the window, which has made a remarkable difference to our driving journey as she can be entertained with a baby version of "I spy with my little eye, something…. ".
The Super-Tarmac car seat is suitable for little ones from 9kg to 36kg, or 9 months to 11 years, making it a group 1, 2 and 3 car seat. It is forward facing using the car's 3-point seat belt, and comes with its own 5-point safety harness, with chest and crotch pads. There's a height-adjustable head-rest, and padded arm rests. Considering its size, it is surprisingly light and should fit most vehicles. And since it'll be with you for a while, it's good to know it also has a washable seat cover.
And, the best part? We did a 4-hour round trip the day after the Super-Tarmac Car Seat arrived, and despite a little squirming, a lot of straining against the straps and a bit of a tantrum, she could not get out of it. Despite feeling gutted that she's so miserable being restrained in a car seat (which is understandable – I hate even the seatbelt), I was inwardly jubilant that she was safe and secure. In fact, in 19 months of driving with her, it's the first time I've actually felt totally confident in her safety.