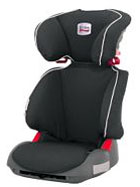 Halfords are selling this Britax Adventure 'Alex' high back booster seat for £25.49 until Monday.
Actually they have 15% off all car seats ordered or reserved online until Monday, so if your child isn't ready for this seat then there may be another one that is more suitable for the car seat stage you're currently at.
However, this is the exact seat that my youngest has in his Dad's car, and we all think it's pretty awesome - they're his words, if you want his first hand opinion, "My car seat's pretty awesome isn't it mum!"
He's not wrong either. The price is great - it should be £59.99 but has been reduced down to £29.99 and with the 15% discount applied at the checkout (you don't have to enter any codes), it brings the cost of the Britax Adventure 'Alex' high back booster seat to £25.49.
It has a retractable drinks holder and snack tray - these are VERY handy and get used a lot - the headrest has 11 different height settings so the seat will grow with your child.
The seat belt guides over the hips and shoulder make sure that your child is perfectly strapped in and comfortable, and there is side impact protection too.
The seat is super light too which makes it dead easy to move from one car to another, if you just have one or are handing over your child to the grandparents for the day!
I really cannot recommend this seat highly enough if you're in the market for a high back booster seat. Don't forget the 15% web offer runs out on Monday.
Thanks to Lucerysmum over at HUKD!