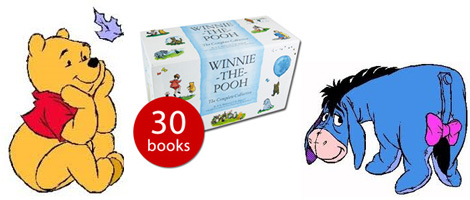 My heart stopped when I saw this deal for this Winne-the-Pooh complete, and boxed, book collection on offer with The Book People.
You see, I had these hardback books when I was a little girl.
To say that I loved them would be a dramatic understatement; I dread to think how many times I read them.
My beloved Pooh Bear books and me parted company in 1992 when I emigrated; out of all the things I had to get rid of, these were among some of the things I found hardest to 'lose'.
I've ordered these 30 Winnie-the-Pooh story books and their lovely presentation box; I've ordered them just for me - not for my youngest, not for nostalgic teenagers...just for me, and I'm going to love and cherish them.
The rrp is £149.99 but you can have them from The Book People for £27 - the published price on their website is £30, so you'll need to apply a code at the checkout to drop it down to £27; I've even got one for free delivery too.
Use code: BRINC25 to get 10% off and bring the price down, then enter ZD533 to qualify for free delivery.
Thanks very much to andywedge over at HUKD!