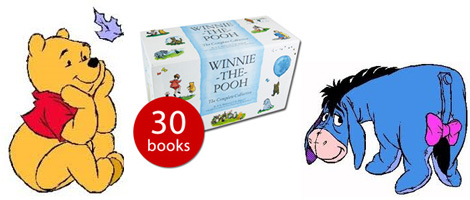 This Winne the Pooh Book Collection would make a stunning Christmas gift for any Winnie the Pooh fan, young or old alike.
I adored Winnie the Pooh as a child and I had books very similar to these.
I have no idea where they are now and have since replaced them with this Winnie the Pooh Book Collection; I read them occasionally too and it's lovely to be able to 'step back in time' and, for a few minutes, feel that life is simple again and not have to worry about the grown-up stuff that is now the norm'.
Thirty books make up this Winnie the Pooh Book Collection and they are absolutely stunning.
I like Disney's version of Pooh Bear, but you can't beat the original water colour illustrations and with everything wrapped up in a sturdy presentation case, this really does make for a special present.
The rrp for the Winnie the Pooh Book Collection is £140 but those lovely folks at Red House have reduced it to £30, and delivery is free as you've spent over £15.