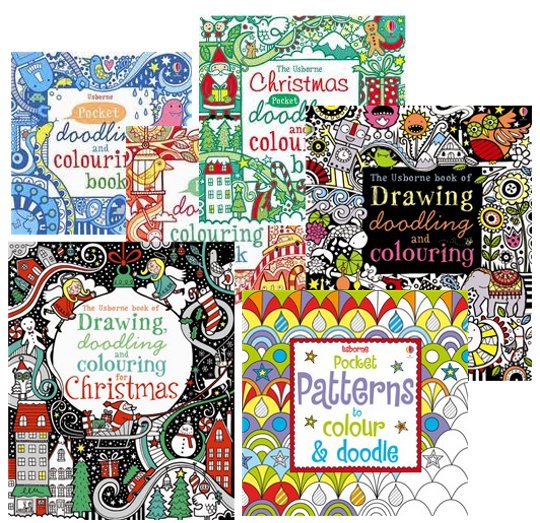 I discovered Usborne Books at a Christmas Fair, and bought two Doodling And Colouring Books for my daughter.
At first I just thought they were standard colouring books, but once I actually spent some time looking through them, I realised these were no books for a two year old. They are amazing in their intricacy and the entertainment value to even an adult.
Each page sets drawing projects, from simple things like 'draw houses and trees to fill the streets', to guided doodling – i.e. they've already started a pattern and you need to fill the page with the rest of it.
On some of the pages you're completing patterns, on some designing your own, and on some doing simpler things like adding smiley faces to the circles.
I cannot see how a person can work their way through this book and not come out a better artist or more creative mind at the end of it – it seems an entire exercise in stimulating the artistic side of the brain, but simply perfect if, like me, your doodles are only ever stick men, flowers or squares.
While these Usborne Pocket Doodling and Colouring Books are aimed at ages 6+ I think it's the ideal thing to have next to the phone or at your desk or wherever else you'd normally sit twirling circles with your pen.
There are currently seven books in the range, including three pocket doodling and colouring books, a holiday version, two Christmas editions and an award winning one too.
These books have 128 pages of activities and entertainment in them, and if you're off on a long journey or in for a rainy spell anytime soon, Usborne Pocket Doodling And Colouring Books are a great size, and can not but capture the imagination of young and old.