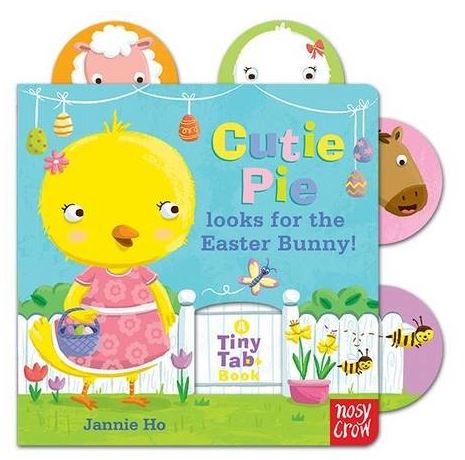 Amazon have reduced the Tiny Tabs: Cutie Pie Looks for the Easter Bunny book from £4.99 to £3.74 - great if you're buying something else, or want a top up to make it to £10, since a) you're spending almost the same as shipping but getting something Easter themed with it, and b) getting something Easter themed for playing, gifting or simply entertaining smalls this half term.
I actively and continually aim to inspire and encourage my children into a love of books. Not only for all the scholarly reasons that a love of reading is good, but also because in books they can go anywhere and do anything, their imaginations can change their worlds, and I find that an exciting prospect. Added to which, children who spend their summers with their noses in books, keep them out of trouble! I know, since I was one of those kids! My lucky mum! ;)
The Tiny Tabs book is a 10-page book and aimed at the very small.
Cutie Pie is searching for the Easter Bunny. Along the way she meets lots of friends who all have delicious chocolate eggs, but she just cannot find the Easter Bunny. Wherever can he be? Little readers will love joining in with Cutie Pie's Springtime search.
A great lead in to your own Easter Egg hunt, methinks.